We are sure you want to increase customer engagement, and you want to offer them a digital experience that is inimitable and memorable—wondering how you can offer this immersive digital experience to your target audiences? Then it is time to connect with us at Spartan Branding Agency.
Only our experts can offer an Augmented Reality solution that will change your potential clients' outlook towards your brand. Our professional mobile app development experts can create apps that can provide your customers' best-augmented reality experience.
All set to adhere to this evolving new concept of AR and VR? Then here is how we can assist you!
Why AR and VR?
There will be many of you who may be sceptical about adopting this virtual reality and Augmented reality apps concept. You may be asking why not just follow the tried and tested traditional ways?
The answer is that this is a unique way to bring about the amalgamation of the digital world and the real world. This amalgamation helps to give a seamless experience to your clients. Always remember that AI and Virtual Reality Apps has the power to increase the interaction of your potential clients with your brand. This marketing technique is a way to increase brand awareness and also to increase brand loyalty.
AR / VR Experience:
More and more customers are today looking forward to having an AR/VR experience, which helps them interact with the brands. Today brands are using these marketing tools to give their clients an interactive experience due to which more clients get attracted to the brand.
Today customers can check the size of the shoes that a leading shoe brand is offering, or clients can check how their dream abode will look once the home improvement project is complete, or they can take the test drive of their favourite mean machine from the convenience of their home.
All this is possible because of the AR/VR Apps development. The integration of this surreal experience in brand marketing has taken the online shopping experience to the next level.
Variety of AR/VR Applications:
AR/VR applications are not limited to specific industries and sectors. If you connect with our Mobile App development company, we will show you that this marketing technique has been used across all industry sections.
Yes, it is true that virtual reality and Augmented reality apps are used in a big way in the gaming and entertainment industry. But there are many other industries where these applications have been used effectively. Whether it is e-commerce and retail industry or interior designing and landscaping or real estate or travel and tourism, you can use these applications very effectively.
Many leading brands have used augmented reality and Virtual Reality Apps in healthcare, education, training, and communication and collaboration.
So no matter what your product and your business pertain to which industry, you can use of AI/VR applications in your digital marketing campaign. All that you need to do is connect with the experts of our Mobile Apps Development Company India.
AR to work:
The experts of our Mobile Apps Development Company India can explain in a lucid way how the AR technology works. There are 3 approaches when it comes to the AR technology. First is Simultaneous Localization and Mapping or SLAM, which extracts virtual images over the real ones.
The second approach is recognition based and in which camera will help in the identification of virtual markers. This is the technology used in the QR code.
The third is location-based, and here one relies on a digital compass, GPS, etc. To know more precise details about how AR works, you can speak to our Augmented Reality experts.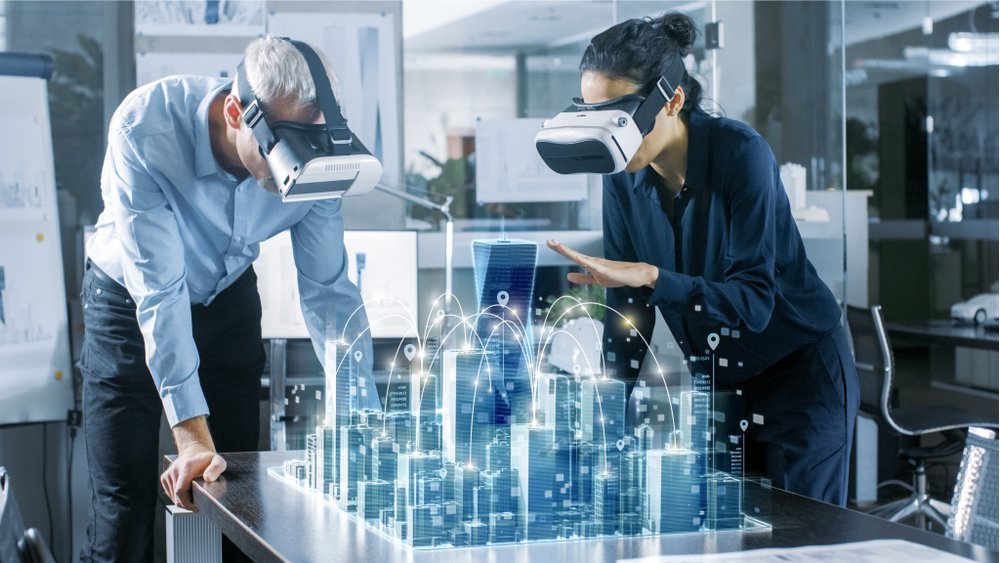 Marker-based AR:
Our AR/VR Apps development experts have proven expertise in Marker based AR. In this case, the scanning of the images is done. In this case, the user can scan a static image with the help of the AR app. The scanning can be done using a mobile device. The selected Marker needs to have unique visual points.
Our technical proficiency:
We are a Mobile App development company that has proven expertise in AR and VI technology. We have professionally qualified AR/VI experts who will make sure that they develop the apps that are best suited for your business.
If you want to create a unique brand image and if you want to retain your brand identity, then you have to embrace the new technology of VI/AR. There is no need for you to worry about how this technology can be imbibed in your digital marketing technology.
All that you have to do is get in touch with our AR and VI app development experts at Spartan Branding Agency. Our experts will ensure that you get the best results from the AR/VI based marketing strategy.
Schedule A Free Consultation Call with Our Experts